Robert Bettencourt - Attorney at Law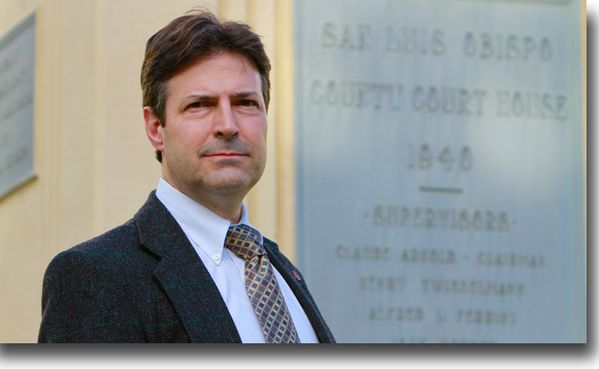 Robert Bettencourt received his doctorate in the law in 1992, having graduated with high honors from McGeorge School of Law in Sacramento. Over his 20-year career Mr. Bettencourt has successfully taken many cases to jury trial and resolved numerous others on excellent terms without trial. He appears frequently in all the courts within the greater San Luis Obispo area, from Paso Robles to Santa Maria, and he is respected by judges and lawyers alike.
Prior to becoming an attorney, Mr. Bettencourt worked for nearly a decade as a police officer. He had several assignments including uniformed patrol and Youth Services. Mr. Bettencourt has practiced law continuously since becoming an attorney 20 years ago, except for a year on overseas military deployment when he performed diplomatic duties with the U.S. Army and NATO in 2005-2006, as part of the United Nations Mission in Kosovo (UNMIK). He was highly distinguished among his peers, receiving a rare Meritorious Service Medal from NATO's Secretary General. Mr. Bettencourt has long been a member of the California Army National Guard, and currently serves as a Lieutenant Colonel.
Mr. Bettencourt is active in the community of San Luis Obispo, presently serving on the board of the Literacy Council for San Luis Obispo County and as treasurer for Project Surf Camp (featured nationally in 2010 on The Today Show). He is a Past Master of King David's Masonic Lodge (2010) and actively supports the History Center of San Luis Obispo County as well as American Legion Post 66.
Mr. Bettencourt handles all aspects of Family Law including divorce, restraining orders, child custody, and motions for monetary support. Mr. Bettencourt's main office is located in the historic J.P. Andrews building on Osos Street in downtown San Luis Obispo, with other offices in Paso Robles and Santa Maria.
Mr. Bettencourt's primary practice areas are Family Law, Criminal Defense & Juvenile Law. Mr. Bettencourt serves clients in San Luis Obispo, Paso Robles, Arroyo Grande, Cambria, Los Osos, Pismo Beach, Grover Beach, Atascadero, Morro Bay, Templeton, Cayucos, Nipomo, Oceano, Shell Beach, Avila Beach, and throughout San Luis Obispo County.